December 23, 2019 By Jamie Warner
Invarosoft Feature Releases Q4 2019 | Self-Service Bot, Smart Engineer Bot, Sentiment Analysis, Device Diagnostics & ConnectBooster SSO

Feature Releases Q4 2019
Self-Service Bot
Now you can reduce tickets by turning your IT Glue or other Documentation into a Self-Service Bot! The goal is to stop 5-10% of these tickets – every day!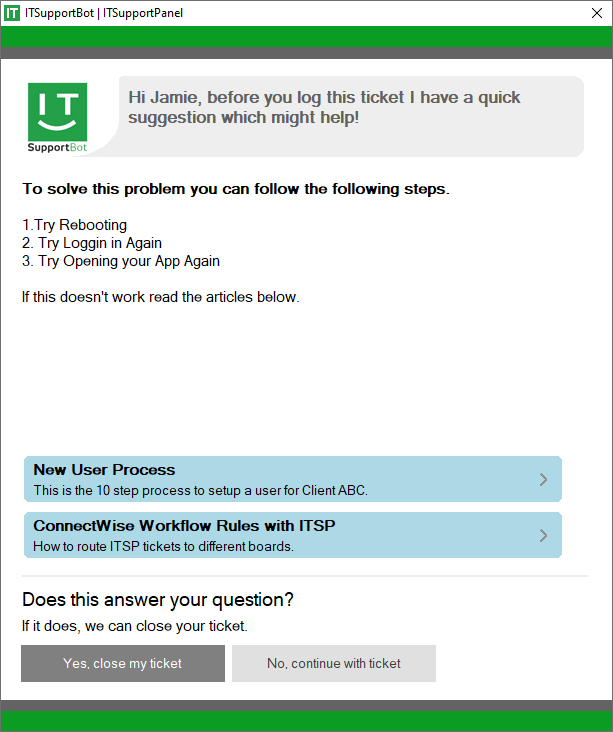 Smart Engineer Bot
With our Smart Engineer Bot you can attach instructions or documentation links to your tickets per client and per user to help Engineers get access to the information they need immediately. This is a huge time-saver to resolve tickets faster!

Documentation
When linking articles to your Bot, you can either link external articles (e.g. IT Glue) or use our Documentation feature which delivers the content in a branded portal.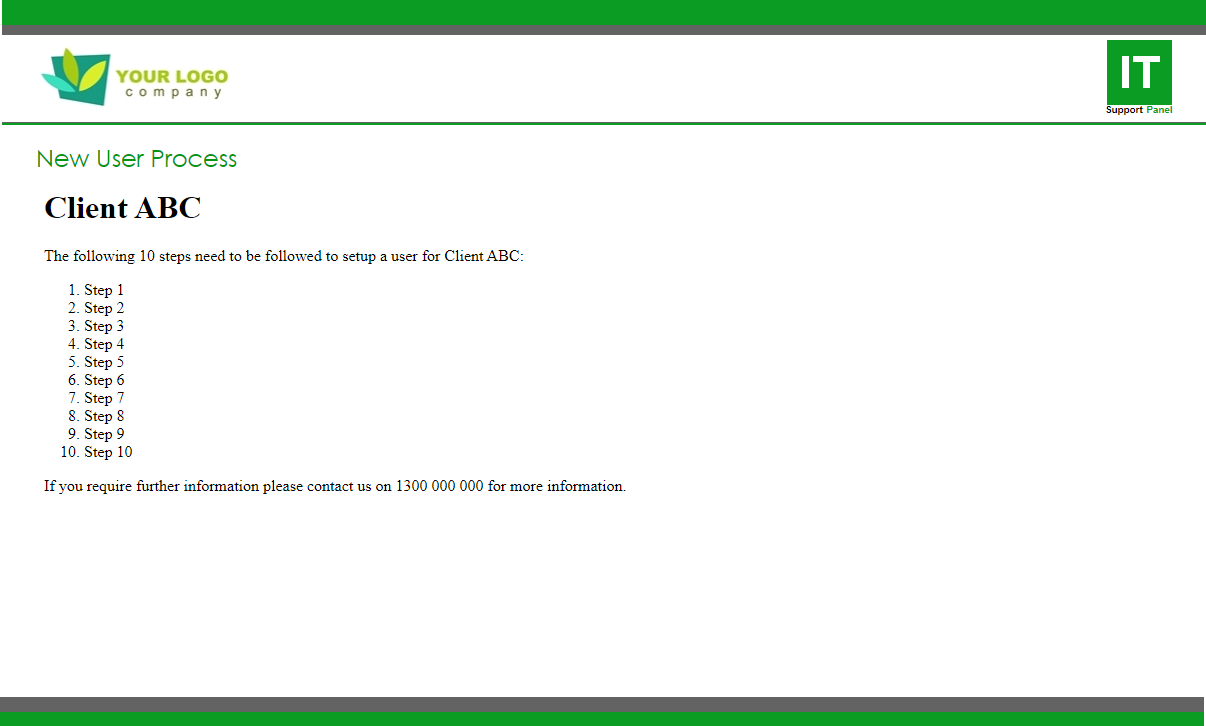 Device Diagnostics (Info)
We want to make ITSupportPanel super beneficial for your Engineers, so now you get the Windows Device Diagnostics information in every ticket! The following is a small snapshot of what you get which you can see under TICKET LOG in the portal when you select DETAIL on the ticket: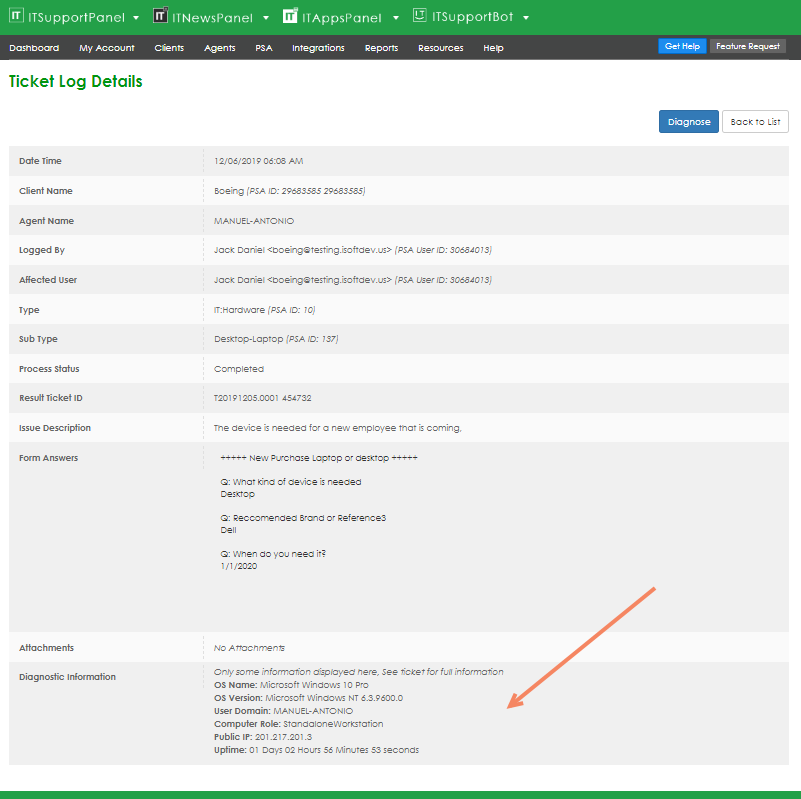 Sentiment Analysis
You now have access to Sentiment Analysis!
Scan Tickets for Keywords & Phrases
If you've ever wanted to be alerted to when a client is getting agitated before they fill in a survey, now you can setup the Invarosoft ITSM CX Platform to scan the ticket for keywords and phrases.
Get Notified Immediately
When they're detected you'll get an email notification AND we can change the status or ticket type of the ticket!
Happy Clients
The whole idea is to keep clients happy and ensure you reduce client churn.

ConnectBooster SSO Button
We can help you get paid faster with our smart ConnectBooster SSO integration.
ConnectBooster SSO Button
Now you can make it easier for clients to access their ConnectBooster account to see and pay invoices by allowing them to simply click the ConnectBooster SSO Button in the App. Authorised users will get immediately auto-authenticated into your ConnectBooster Portal. Easy!
Get Paid Faster + Much Better Client Visibility!
The value of ITSupportPanel is your 'one pane of glass' to make it easy for users to access ALL of your IT Services and systems, so by making it easier to find and access you should get paid faster and no excuses they can't find your invoice!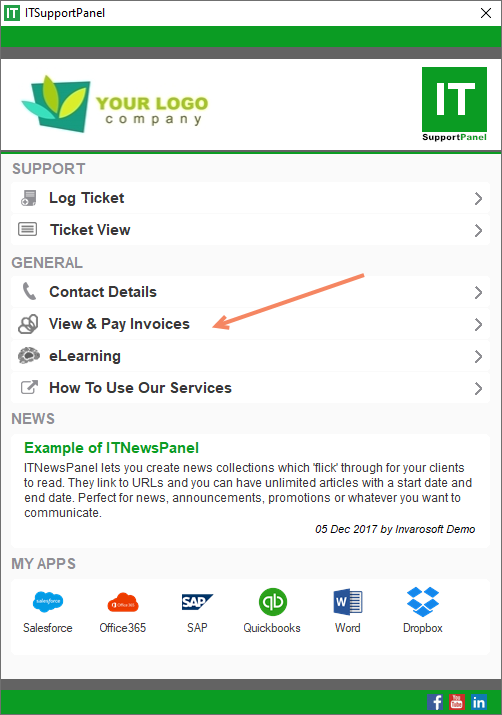 ITSupportPanel is Feature Packed
App on Windows, Mac, iOS and Android
Ticket Logging
Branded Ticket Portal
Screen Capture
Custom Forms
Approvals
Push Notifications
Automation & Scripting
News Articles
Custom Buttons
Custom Appearences
Customize App Per Client, Per User
AD Harvester
Wise-Pay SSO Integration
BiggerBrains SSO Integration
Smart Agent (Faster Deployment)
Self-Service Bot – NEW
Smart Engineer – NEW
Documentation – NEW
Device (Config) Info in Ticket – NEW
ConnectBooster SSO Integration – NEW
Senitment Analysis – NEW
Coming Soon in Q1 2020
Outbound Chat
Button Forms
Kaseya BMS API
ITNewsPanel RSS Integration
Azure AD Sync
MFA